Microsoft's Bing now allows users to search with their phone camera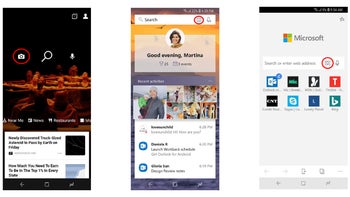 Last month Microsoft confirmed that its
Android launcher will get a new Visual Search feature
and Rewards support but did not say when these new changes will be implemented.
Today, Microsoft announced that Visual Search is now available through the
Bing app on Android
and iOS, as well as Microsoft Launcher for Android, and Edge browser for Android. However, Visual Search is only available in the United States, for the time being, Microsoft said in a statement.
In case you're wondering how this feature works, here are a few details that will shed some light on the matter. First off, Visual Search makes use of the phone's camera and allows you to identify the object in a picture, as well as provide you with more information about the particular object.
Assuming Bing can identify the object, you'll also receive additional links that contain even more details.
Visual Search
is especially useful when you want to shop for various stuff like clothes or home furnishings.
For example, if you see a pair of shoes but don't know the brand or where you can buy them, taking a picture and uploading in the app's search box will allow
Bing
to offer you more details. Microsoft's new Visual Search is meant to make it easier for Bing users to search, shop, and learn more about their world through the photos they take.