MetroPCS introduces the LG Esteem, offering LTE connectivity for $249 after rebate
2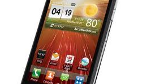 Just last week, we told you to
expect the LG Esteem to be offered by MetroPCS
and today the pre-paid carrier has made it official.
The LG Esteem is equipped with a 4.3 inch WVGA screen
made with Gorilla Glass and has a single-core 1GHz processor under the hood with 512MB of RAM aboard. 8GB of native storage comes with the device out of the box and a micro HDMI port and DLNA streaming capabilities allow you to stream HD video to a bigger television screen. A 5MP camera on back with flash captures video at 720p and there is a 1.3MP front-facing camera for self-portraits and video chat. The handset will set you back $349 of which $100 comes back to you in the form of a rebate. That price will be valid until the calendar turns on the new year, January 1st 2012.
The LG Esteem offers connectivity to the carrier's 4G LTE pipeline. MetroPCS customers purchasing this phone and seeking unlimited services have a choice between the $50 or $60 per month plan. The former offers unlimited talk, web, text, visual voicemail and 1GB of access to streaming multimedia. LG Esteem buyers will get 90 free days of Rhapsody music with this plan. The $60 a month plan offers unlimited everything including your choice of unlimited Rhapsody Music or MetroSTUDIO video on demand.
Tony Keys, president and COO of MetroPCs points out that the combination of the LG Esteem and the MetroPCS 4G network bring features to the carrier's customers that were previously unavailable to mobile users without signing a contract. Keys also pointed out that
MetroPCS is the only no-contract, pay in advance carrier offering a 4G LTE networ
k.
source:
MetroPCS