MetroPCS' Black Friday BOGO begins now
1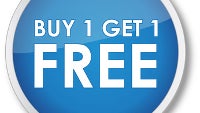 No, the Black Friday BOGO is not some sort of new dance craze that is taking over the dance floor in clubs around the world. Actually, it is the Black Friday sale for pre-paid carrier MetroPCS. Starting today and running through November 30th, those purchasing any phone from MetroPCS will be eligible to receive a second handset for free.
The eligible phones that you can take home for free include the
Samsung Galaxy Core Prime
,
Kyocera Hydro Wave
,
LG Leon
,
LG 450
and the
ZTE Obsidian
. The only thing you have to shell out is the sales tax.
MetroPCS recently introduced two new services, both based on similar features that are offered to T-Mobile customers. As you probably know, MetroPCS is owned by the nation's third largest carrier.
Music Unlimited
allows you to stream music from 33 providers without it counting against your monthly data allowance. And with
Data Maximizer
, video from participating content providers is streamed at 480p instead of 1080p. This results in users being able to watch three times as much data as before, when video was streamed at the faster speed.
Music Unlimited is offered with the $40, 50 and $60 plans, while Data Maximizer is available on all data plans.
source: MetroPCS