Meizu M2 launch invite contains a semi-functional Nokia 1110
16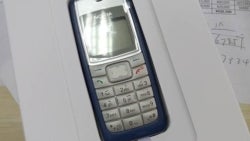 Yesterday, Meizu's social network activity led us to believe that the company might become
one of Nokia's future hardware partners
. As it turns out, however, it was all smoke without fire. As it was revealed today, all of those clues that Meizu posted online yesterday have nothing to do with Meizu and Nokia partnering up for a smartphone. Instead, it looks like Meizu is attempting to use the popularity of the Nokia 1110 to promote its upcoming Meizu M2.
Earlier today, Meizu started sending out invitations to a special event on July 29 where the Meizu M2 will be unveiled. The interesting part comes as the invite contains a semi-functional Nokia 1110 feature phone, probably one of the most popular phones of all time. This is thought to be Meizu's unique way of saying that its upcoming M2 smartphone will come with the price/performance required to become an instant classic. According to rumors, the Meizu M2 will be priced at about 599 Yuan, or just under $100 at the current conversion rates.
The Nokia 1110 that Meizu included in the invite package is not fully functional. Although the phone can be turned on, it cannot be used to place or receive calls or messages. The only thing that the display shows is that date of the Meizu M2 official unveiling, which is July 29.
Although the Meizu M2 is obviously not official yet, we already know all there is to know about the handset thanks to a recent
discovery in the TENAA database
. According to the Chinese phone regulatory organization, the Meizu M2 will come with specs such as a 5-inch display with a resolution of 720 by 1280 pixels, a 64-bit MediaTek 6735 SoC with an octa-core CPU and a Mali-T720GPU, 2GB of RAM, 16GB of internal storage, a microSD card slot, a 13MP primary camera, a 5MP "selfie" sensor on the front, a 2700mAh battery, 4G LTE connectivity, and dual-SIM capabilities.
If the rumored price of 599 Yuan turns out to be accurate, then it's safe to safe to say that the Meizu M2 will be a tough competitor in the entry-level segment of the Chinese smartphone market. However, there's a long way to go before the Meizu M2 becomes a classic like the Nokia 1110, but we have to salute the manufacturer's bold marketing move with its event invites.
What do you guys think? Does the Meizu M2 stand any chance at all to become as popular as the Nokia 1110?