Meet Yumi, the Android robot that talks to Amazon Alexa
3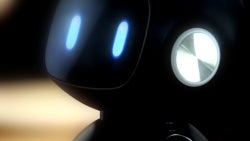 How cute can a personal robot get? The answer is – loads! Just look at Yumi, an Android-powered robot made by smart accessories brand Omate that doubles as a Bluetooth speaker and voice-activated unit thanks to its integration with Amazon Alexa.
The robot's head is fashioned out of a 5-inch, 720p resolution touchscreen used for commands and displaying a friendly smile. Yumi also features moving wheels so it's able to turn towards you when you're talking to it. There's also a 5MP front camera for video calls and home surveilance.
Unfortunately, the camera can't be tilted, but that shouldn't be a problem if Yumi is always facing you at eye-level. However, the cutesy robot does lack the ability to avoid objects and drops, which means it belongs firmly planted on the table or countertop.
Yumi is powered by the same hardware that drives budget Android smartphones – that is, a 1.3GHz quad-core Cortex-A53 chipset, 1GB of RAM, 8GB of storage, Wi-Fi and Bluetooth connectivity, HDMI, and microUSB ports. Using Amazon Alexa depends on a healthy internet connection, so it's important to have that sorted out in your home.
Yumi is 11.7-inch tall and is going to ship March next year. It's going to be funded via Indiegogo, with the campaign beginning November 15.
source:
Omate