MediaTek's new MT6595 octa-core processor scores as high as 47,000 on AnTuTu, has support for advanced features
28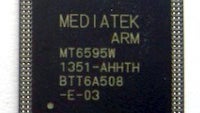 MediaTek's new MT6595 octa-core processor, about which we told you
the other day
, is now official, and initial benchmarks show that it's crazy fast. During the Taiwanese company's unveiling presentation, the audience was provided with an early peek at the kinds of synthetic scores it can achieve on one of the most popular benchmarking suites -- AnTuTu. That score reads over 47,000, which is far and way the highest score we've seen so far.
We still don't know exactly when manufacturers will start churning out devices with this impressive-sounding piece of hardware, though it's probably safe to say that we're still several months away from that. In any case, if MediaTek manages to price this competitively (compared with Qualcomm's Snapdragon chips), one could argue that MediaTek will be back in business with local brands that have lately resorted to Qualcomm in order to deliver true flagship experience. That's because the MT6595, apart from being the first MediaTek chip to run in a big.LITTLE formation (like Samsung's Exynos: two clusters of four cores -- four bigger (Cortex-A17) and four smaller (Cortex-A7) -- take turns handling load), the new silicon also supports FDD and TDD LTE bands, along with display resolutions up to 1600 x 2560, cameras with over 20 megapixels, 4K UHD video recording, and even slow-mo's. Finally, the MT6595 can be clocked to reach as much as 2.2GHz, and that most powerful version is the one that scored that 47,000 on AnTuTu. None too shabby, that one.
Either way, and despite our respect for what Qualcomm has been consistently achieving, we do feel like the industry could use more competition in terms of the silicon powering our flagship devices. It might just be that MediaTek is finally up for the challenge.
Recommended Stories