Looking for a job? Check the PhoneArena Jobs page!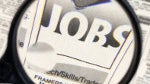 So, you're looking to start a career in the wireless industry? You want to become a respected store manager, or perhaps you dream of participating in the development of the next hit title in the App Store? Or you might be an ambitious start-up looking to hire the right guy for this breakthrough project? Look no further, brave adventurer, for we have launched a brand new section that will surely cater to your desires – the
PhoneArena Jobs
page!
What you'll find there are tons of potential job offers, posted by numerous leading companies from the wireless industry. We don't want you to feel lost, of course, looking over endless lists of postings, and that's why we've given you the possibility of filtering by Occupation (such as Hardware, Software Internet, Networking, Quality Assurance, Technical Support, etc.)
In addition, for those who have a busy schedule and cannot devote their full day yet, there's an option to filter by Job Type, including Part-time, Contract, Seasonal, Temporary, etc.
Finally, we find it appropriate to end this article with a quote from Steve Jobs's Stanford Commencement speech:
"Your work is going to fill a large part of your life, and the only way to be truly satisfied is to do what you believe is great work. And the only way to do great work is to love what you do. If you haven't found it yet, keep looking, and don't settle. As with all matters of the heart, you'll know when you find it."
You still here? Go
get your dream job
, go go!