Logitech's new Logi brand debuts with the BLOK family of durable iPad cases
2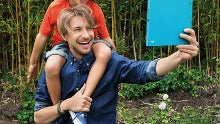 Logitech made a brainstorming session, a focus group and means tested variability study (ok, we made this one up) recently, and concluded that its name is not hip enough for the younger crowd, then changed the title of its new line of accessories to Logi. Yes, simply Logi, as it polled better with said crowd.
First in line to carry the new name are the Logi BLOK family of cases for Apple's iPad. The trio consists of the Logi BLOK Protective Shell, the Logi BLOK Protective Case and the Logi BLOK Protective Keyboard Case. The motto of the new line is "made to be dropped", as this BLOK family is outfitted with cushioned square corners that are made to protect your iPad from drops up to six feet high, even on concrete. As per Michele Hermann, VP of mobility at Logitech:

The iPad is a powerful device. But people have dropped and damaged – or are afraid that they will drop and damage – the iPad, so they typically don't use it to its full potential. Until now, protecting your iPad from drops meant covering it with a bulky case that took away from the beauty and mobility of the iPad. Our designers worked with material experts to protect the most sensitive parts of the iPad without adding the bulk you associate with ultra-protective cases. With the Logi BLOK family of cases you no longer have to choose between protecting your iPad and having a beautiful case that allows you to enjoy all the functionality it has to offer.
The Logi BLOK Protective Shell suits the
iPad Air 2
, as well as all models of iPad mini and features a screen protector that guards the screen from scratches. The slim shell will be coming in black, red/violet or teal/blue, and cost $39.99. The Logi BLOK Protective Case for your precious Air 2 carries the same level of protection, but adds an adjustable multi-angle stand that keeps your iPad fixed within a 50-degree range. The stand adjusts to provide a comfortable viewing angle for activities that require your eyes to be on the iPad and your hands free. The Protective Case comes in the same colors, but the stand adds more to the price, for an MSRP of $69.99.
Last but definitely not least is the Logi BLOK Protective Keyboard Case for the iPad Air 2, which merges the previous two, as it features a protective shell and a stand, but adds a wireless, detachable keyboard, that doubles as a screen cover. The keyboard sports a dedicated row of iOS shortcut keys, and the whole set can be yours for $129.99. The Logi Blok family will be hitting stores in the U.S., Australia, New Zealand and select countries in Europe at the beginning in August 2015.