T-Mobile-Sprint merger one small step closer to closing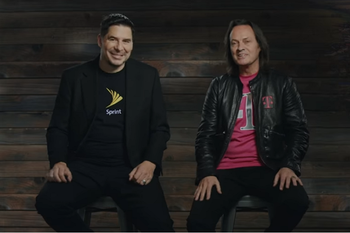 Besides needing approval from the big federal agencies like the FCC and the DOJ, the T-Mobile-Sprint merger has to get approval from 19 state public utility commissions.
According to Fierce Wireless
, today the New York Public Service Commission approved the deal. The state agency said that it came to the conclusion that the merger is "not expected to cause interruptions or changes in service for existing Sprint wireline customers."
The New York Public Service Commission did have some conditions attached to its approval; T-Mobile must continue to operate its relay call center in Syracuse, and honor existing contracts until they expire. Both T-Mobile and Sprint had to agree that the total number of employees working for the merged firm in the state will be equal to the number both firms employ in New York at the time the deal closes; that figure cannot drop for three years after the deal is completed. And lastly, the state agency is requiring T-Mobile to give its employees the same benefits post-merger that they received prior to the closing of the transaction. Sprint employees staying on with T-Mobile after the merger must receive equivalent benefits.
With the thumbs up from the New York Public Service Commission, the T-Mobile-Sprint merger has now been approved by 16 state public utility commissions, which means the deal needs three more thumbs up in addition to approval from the FCC and DOJ.
The government shutdown has forced the FCC to delay its decision
on the deal.
While the New York Public Service Commission deals with local issues such as employment in the state, it also plans on monitoring the rollout of 5G by the New T-Mobile in New York. The agency wants to make sure that the combined carrier offers the majority of New Yorkers 5G service within 3 to 5 years after the deal closes, as previously promised.
The commission also said it was concerned with competition matters, including the reduction in the number of major wireless providers to 3 from 4, and the lower number of wireless firms offering service to MVNOs. But the New York Public Service Commission said that those matters are up to the FCC and DOJ to analyze.