Liveblog: Samsung's press conference at CES 2016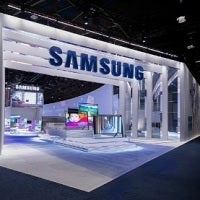 One of the biggest, if not the biggest, press events at CES every year is held by Samsung. The line for media starts hours in advance. The Korean conglomerate uses its stage to make major announcements for nearly every segment of its technology business. From connected homes to health, from smart appliances to smart phones, Samsung puts on a show.
The event is even known to make news unrelated to Samsung's products. Who can forget the presentation being given by Hollywood film director Michael Bay when he just decided to give up and walk off the stage a couple years ago?
This year, we are expecting a lot of announcements related to
Samsung's Creative Labs group
and a big push with virtual reality. Among them, we should see a hand-
motion
controller for
Samsung Gear
VR. On the wearables front, we might get a glimpse of the
WELT Smartbelt
. The idea being it will help you track your waist size, eating habits, and walking activity.
One of the more interesting things we will keep an eye out for is
TipTalk
, which allows you to hear sounds from your connected devices simply by touching your ear with your finger. The solution should work through a watchstrap style accessory, and could provide a great solution to hearing calls or messages in noisy environments since no earpiece is required.
All that, and possibly more, should be forthcoming from Samsung. We will share all the news with you as it happens, so keep a page open right here as we liveblog the event.
Samsung's CES media event is scheduled to begin at 2:00PM PT | 4:00PM CT | 5:00PM ET | 10:00PM GMT!
Live event tracker
| | |
| --- | --- |
| 16:54 | We will bring you hands-on from the main convention hall when #CES2016 officially opens tomorrow. #SAMSUNGxCES2016 |
| 16:53 | That's a wrap! #SAMSUNGxCES2016 #CES2016 |
| 16:51 | And that's the mobile part. Looks like things will start wrapping up. #SAMSUNGxCES2016 #CES2016 |
| 16:50 | 12-inch super AMOLED display, and Intel Core-M CPU. #SAMSUNGxCES2016 #CES2016 |
| 16:50 | The new Galaxy TabPro S. Powered by Windows 10. #SAMSUNGxCES2016 #CES2016 |
| 16:48 | Gear S2 compatibility coming to iOS later this year. #SAMSUNGxCES2016 #CES2016 |
| 16:48 | Samsung Pay will join the Gear S2 smart watches later this year. #SAMSUNGxCES2016 #CES2016 |
| 16:47 | High end materials join the Gear S2 smart watches. #SAMSUNGxCES2016 #CES2016 |
| 16:43 | Now for some mobile news! Yay! #SAMSUNGxCES2016 #CES2016 |
| 16:42 | It looks like it is powered by Android or Tizen OS. |
| 16:42 | The Family Hub refrigerator is also SmartThings connected, so you can control connected devices, handy when you're ready for bed. |
| 16:39 | The Family Hub refrigerator has interior cameras so you can use your smartphone to look inside while grocery shopping. #SAMSUNGxCES2016 |
| 16:38 | This is pretty cool. The Family Hub refrigerator is connected and has a touch screen to manage calenders, food, etc |
| 16:33 | Herrington is going to present home appliances. We will wait patiently for some mobile news. |
| 16:33 | #SAMSUNGxCES2016 #CES2016 |
| 16:29 | TV presentation is done, but is now dovetailing into UHD content. #SAMSUNGxCES2016 #CES2016 |
| 16:25 | The presentations are tightly scripted. #SAMSUNGxCES2016 #CES2016 |
| 16:20 | We haven't forgotten about you, just waiting for some mobile centric news. |
| 16:15 | Now we're going to receive some TV related announcements. #SAMSUNGxCES2016 #CES2016 |
| 16:14 | Project Beyond is a 360 degree VR camera. #SAMSUNGxCES2016 #CES2016 |
| 16:14 | #SAMSUNGxCES2016 #CES2016 |
| 16:12 | Samsung Pay expands to UK, Australia, and other markets this year. #SAMSUNGxCES2016 #CES2016 |
| 16:11 | The next chapter of mobile growth. "The Samsung Galaxy 'ecosystem'" #SAMSUNGxCES2016 #CES2016 |
| 16:10 | Strategy No. 3: Mobile. #SAMSUNGxCES2016 #CES2016 |
| 16:09 | Strategy No. 2, Solving customer pain points. #SAMSUNGxCES2016 #CES2016 |
| 16:09 | The SmartThings adapter will operate up to 25 smart devices in the home. Free with 2016 model year TV purchase. |
| 16:07 | Internet of Things is strategy No. 1. #SAMSUNGxCES2016 #CES2016 |
| 16:06 | Three key strategies to be discussed. #SAMSUNGxCES2016 #CES2016 |
| 16:06 | "Consumers love what we're doing." #SAMSUNGxCES2016 #CES2016 |
| 16:05 | #SAMSUNGxCES2016 |
| 16:04 | Things are getting underway now. #SAMSUNGxCES2016 #CES2016 |
| 16:04 | Standing room only at #SAMSUNGxCES2016 #CES2016 |
| 16:01 | Just announced that the press conference will begin in 2 minutes. #CES2016 |
| 16:00 | Not everyone gets a seat this year. Smaller room and lots of press. #CES2016 |
| 15:51 | The convention center at Mandalay Bay is as large as all the exhibit space at other notable conferences. #CES2016 |
| 15:49 | We're making our way into the convention hall now. #CES2016 |
| 15:46 | When you're waiting in line and ultimately camp out for Samsung's press conference at #CES2016 |
| 15:43 | What do you think? Would you benefit from a smart belt that tells you how much you eat or how big your waist is getting? #CES2016 |
| 15:41 | We think the big gadget news will be from Samsung's C-Labs unit, with new takes on wearables. #CES2016 |
| 15:38 | This year, we're lined up tightly through a rope gate serpentine. With 20 minutes to go before the event. #CES2014 |
| 15:36 | Every year at #CES2016 media start lining up hours before Samsung's presser. This year is no different. |
| 15:35 | This is but a small sliver of the line we are waiting in for the Samsung press conference at #CES2016 |
| 15:32 | Testing 1, 2, 3... |