Liveblog: HTC's One A9 announcement
10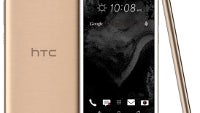 HTC is back for another round this year, as it's now expected to unveil a brand new entry in its One family – the HTC One A9. This new smartphone, which is expected to act like a slightly watered-down version of the One M9, has been long discussed due to its uncanny resemblance to the iPhone 6. Will this really be the case when it lands, though? The good news is that we'll know soon enough. In just about an hour, HTC will kick-off the introduction of the new phone, and you can bet you'll be able to find all the details, right here at PhoneArena.
But let's not get ahead of ourselves. First things first, it's liveblog time! Here, you'll be able to follow the announcement, one step at a time, complete with commentary from yours truly. Meanwhile, here's where you can
watch the event livestream
itself, if you're looking for the motion picture experience.
EVENT START TIME