Liveblog: Apple to announce the new iPad 5 and iPad mini 2
26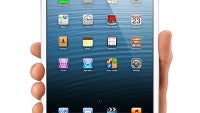 And here it is - October 22nd, the day when Apple's expected to announce its new tablet computers - the iPad 5 and the iPad mini 2. Needless to say, we're more than pumped up for this event, as we're sure that Apple has a lot of intriguing surprises in store for us.
For starters, the full-sized iPad, which is going to enter its fifth generation, is expected to get a design language similar to that of the iPad mini - with thin side bezels, which should make it considerably more compact. In addition, Apple is also said to make its 9.7" tablet even thinner and, hopefully, lighter. Of course, we're also hoping to see the appearance of an A7 chip inside the new product, as well as the Touch ID fingerprint sensor. Meanwhile, the drama surrounding the iPad mini 2 is quite big, as we've been bombarded with contradicting rumors these days. We still don't know if it's going to have Touch ID or not, or even if it's going to get a higher screen resolution.
But it's now time to leave the rumors and speculation behind (though you can always get back to them
here
), and get ready to experience the real products, with all of their pros and cons. We'll be bringing you up-to-the-minute updates as the event unfolds, and the only thing you need to do is to enjoy the liveblog below!
THE EVENT STARTS AT: 1PM ET | 12PM CT | 11AM MT | 10AM PT | 5PM GMT | 7PM CET
Images courtesy of PCMag.