Lenovo IdeaTab Lynx hands-on
1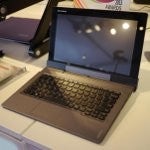 By now, there's no arguing that
Lenovo
is all about variety with its share of laptop/tablets/ultrabooks. So far, we've checked out the
Lenovo IdeaPad Yogas
and the
ThinkPad Tablet 2
at their outdoor booth at CES. Additionally, there's yet another model that's sure to grab the attention of some people. Don't want to be stuck with either an ultrabook or tablet, but prefer something that takes from both categories? Well, you're in luck because there's the
Lenovo IdeaTab Lynx
– a Windows 8 hybrid that's one part all tablet, and with the aid of an optional keyboard dock, it's transformed into one practical ultrabook.
Above all, the biggest thing to stand out to us with the Lenovo IdeaTab Lynx is its
super lightweight feel
in the hand. Sure, it's boasting a textured plastic body that lacks the lustful desire of an all-metal body, but regardless of that, we're blown away by its
feather-like feel in the hand
– especially considering it's packing an
11.6-inch 1366 x 768 IPS display
. In fact, this is significantly lighter than Microsoft's very own flagship tablet in the Surface RT.
With the
optional keyboard dock
, you get the functionality of a laptop in your hands, which then turns it into a superb productivity machine on the go. Even better, the keyboard dock is packing along a battery of its own – thus, giving the IdeaTab Lynx a
total battery life of 16 hours
on a full charge. Combine that with its
dual-core 1.8GHz Intel Atom processor
coupled with 2GB of RAM, it's sure to handle most of anything that you throw at it.
Although it's not selling at the moment, this is going to be one affordable thing when it does launch. Expected to be outfitted with a delicious price point of
$599
for just the tablet itself, it gets even better knowing that the keyboard dock is only another $149 out of your pockets.