Lenovo ThinkPad Tablet 2 hands-on
6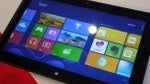 ThinkPad
, that's a name we all know in the consumer electronics space. Normally we'd think about one of those consistent looking enterprise laptops coming from a long lineage, but this time around, it's being morphed into a
full-fledged tablet
. At Lenovo's outdoor booth area at CES in Las Vegas, we managed to get some hands-on time with the
Lenovo ThinkPad Tablet 2
, which is none other than a slate running the full Windows 8 experience – as opposed to the watered down Windows RT experience.
For a tablet, we have to admit, we're digging the slim size it's packing along for the ride – while also admiring the subtle ThinkPad design DNA it's boasting too. Digging the size and
balanced weight
of this one, you can turn it into a distinctive ThinkPad laptop by attaching the optional keyboard dock to it. Strengthening its overall usability, it even manages to carry along a very useful
digitizer stylus
that presents users with a way to quickly jot down notes or draw – similar to what we've been seeing with Sammy's Note stuff.
Smack dab right there in front of us, its
10.1-inch HD 1366 x 768 IPS screen
with 10-finger multi-touch support looks pretty superb when pitted up against other things. On top of that, if you're worried about battery life with this skinny looking fellow, it's mentioned to put out roughly
10 hours out of juice
. However, if you pick up the optional keyboard dock, it'll increase the total by a little bit more. Being Windows 8 and all with its fancy schmancy start screen, it naturally moves swimmingly with its performance – and that's know it's packing a
1.5GHz Intel Atom processor with 2GB of RAM
inside of its streamlined body.
As we continue to see an increase in Windows 8 slates, it's only going to become harder to be distinctive enough to stand out prominently. Sure, it doesn't boast a killer industrial design like some of the other recent tablets out there, but if you've been a fan of the ThinkPad series, maybe this might persuade you to make the switch to a tablet – even more when its base price starts at
$649
.