Lease the Samsung Galaxy S9 for just $9 a month from Sprint
2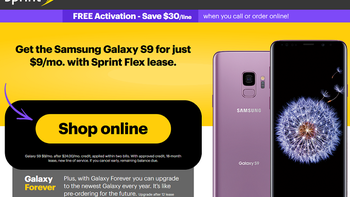 If you don't mind leasing your phone, Sprint has a fabulous deal on the
Samsung Galaxy S9
. Cutting its regular monthly lease price by 73%, Sprint is charging only $9 a month for Sammy's 2018 flagship phone with its Flex lease plan. After two bills, you will start to see a $24 bill credit show up on your invoice every month. Those switching to Sprint, or existing customers adding a new line, are eligible to take advantage of the deal. If you prefer the
Samsung Galaxy S9+
, after the bill credit you'll be paying $14 a month to lease the larger model. That is a discount of 63% from the carrier's usual monthly lease price for that handset.
After 12 monthly payments, you'll be eligible to trade in your phone for the latest version. After 18 months, you have the option of turning in the leased handset and walking away, or you can purchase it for the full price minus the lease payments made up to that point. That balance of $198 (plus taxes) for the Galaxy S9 can be paid off over 6 months. For the Galaxy S9+, the balance would be $228 (plus taxes) over 6 months. Keep in mind that because you are leasing instead of buying, you really will need to use a case to protect your device.
Sprint is offering to lease you the 2018 Samsung flagships at a huge discount for two reasons. One, it would like to clear its inventory of these phones in advance of the new models that are expected early next year, and two, the deals also help bring in new subscribers.
Take advantage of the deals on the Galaxy S9 or Galaxy S9+ online or via a phone call, and Sprint will waive the usual $30 one-time activation charge. If interested, click on the sourcelink below.