Leaked roadmap shows Qualcomm could bring out its 64-bit processors by this year's end
30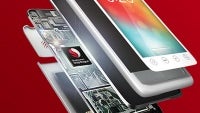 It seems Qualcomm doesn't have much idle time to spare. The silicon slinger's 2014-2015 product roadmap that popped up on China's Weibo social network shows the company is preparing to give its lonely Snapdragon 600 chipset some 64-bit company.
The
Snapdragon 610
(MSM8936) and
Snapdragon 615
(MSM8939) are scheduled to appear on the market by this year's end. Both are made on 28nm technology and have the Adreno 405 as their graphics arm. However, the Snapdragon 610 has four Cortex-A53 CPU cores clocked at 1.8GHz, while the Snapdragon 615 is an eight-headed beast that sees the aforementioned cores joined by four additional A53 cores clocked at 1GHz.
The Snapdragon 800 will get new 64-bit friends as well. Between the second and third quarter of 2015, the
Snapdragon 810
(MSM8994) and
Snapdragon 808
(MSM8992) will become available to manufacturers. The Snapdragon 810 is an eight-core processor backed by the Adreno 430 GPU found in the rare Snapdragon 805. The Snapdragon 808 is a less powerful, but not modest at all hexa-core (six cores) processor backed by the Adreno 418 GPU.
With these time-frames in mind, it's logical to assume that the first 64-bit Android phones powered by the new Snapdragon 610 & 615 processors could start showing up as early as Q1-Q2 2015. The more powerful Snapdragon 808 and 810 could appear in products from the second half of 2015. This is how it played out when the Snapdragon 600 and Snapdragon 800 succeeded the good ol' Snapdragon S4 Pro back in 2013.
Qualcomm isn't one to hold surprises, so if you are interested in reading more about its upcoming processors, you can do so straight from
the company's page
.