Leaked roadmap for Cellular South uncovers a listed HTC 7 Pro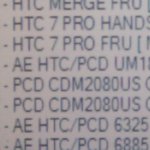 Sprint customers are currently the only ones who can experience the latest Windows 7 Phone on the market, the HTC Arrive, but we may very well see a regional carrier getting in with the same handset.
Looking closely to a
leaked roadmap for Cellular South
, you can blatantly see that the HTC
7 Pro
is listed; thus potentially giving some hope of its arrival. Naturally, it'll be a welcomed addition to its family of available handsets – but even more since it's not too often we see Windows Phone 7 devices coming to market in general. Considering that it's no slouch in terms of hardware, it'll easily spread the good word of Microsoft's revamped mobile platform as well.
Although there is hope that Cellular South might see the handset in the future, there is still no official confirmation regarding its arrival or pricing. In any event though, let's just hope that it won't be a lengthy process in getting this to market.
via
WP Central