Latest "If it's not an iPhone" ad is all about Apple Pay
24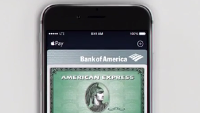 Apple's "If it's not an iPhone" series of ads has been trying to show consumers that not all smartphones are the same. While the tag line used for the ads does seem rather obvious, there are some people who are not as well-versed about intelligent handsets as our readers are. To these folks, every smartphone is now an iPhone just as every tissue is a Kleenex and every adhesive bandage is a Band-Aid.
The latest ad in the series was released by Apple today, and focuses on Apple Pay. Besides discussing some of the features of the mobile payment service, like the way it protects prying eyes from seeing your card information, and the fact that it can now be used in over one million stores, Apple turned the ad copy into a poem with some nifty rhymes.
"This is an iPhone. And this is Apple Pay. Which lets you shop in a faster, simpler way. For groceries and kicks, toys and your lunchtime fix. It's safer than a credit card and keeps your info yours."-From Apple's newest television ad
Some of the retailers accepting Apple Pay that are shown off in the spot include Whole Foods, Foot Locker and McDonald's. Last month,
Apple Pay launched in the U.K.
with rollouts expected soon in Canada and China.
You can view the new ad by clicking on the video below.
source:
Apple
via
AppleInsider