Apple Pay launches in the U.K.
9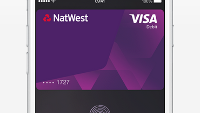 Now that it is Tuesday morning in the U.K.(with the time difference, of course), Apple Pay is officially launching in the region. The mobile payment system will initially count eight U.K. banks as partners including American Express, First Direct, HSBC, Nationwide, NatWest, Royal Bank of Scotland, Santander and Ulster Bank. Retailers like Boots, Waitrose, Pret and Transport for London are among the first participating retailers in the area. Credit cards participating in Apple Pay U.K. include Visa, MasterCard and American Express.
Currently, limitations with software prevent Apple Pay from being used on purchases over $31 USD. In September, merchants will update their POS software allowing the cap to be raised to $46 USD. These point of sale systems will be updating all day today as individual stores start connecting to the system.
Apple Pay can be used with the
Apple iPhone 6
,
Apple iPhone 6 Plus
and the Apple Watch. Using the card's security code, add the credit or debit card you use for iTunes into Passbook. After that is accomplished, other cards can be stored by snapping a picture of the card using your iPhone's rear-facing camera. Or, you can enter the information manually. To use Apple Pay with your iPhone, select the card you want to use, then hold the device near the reader with your finger on Touch ID.
While Apple Pay is just starting in the region, other banks such as Halifax, Lloyds, and the Bank of Scotland will be added this fall. And now that the service is available in the U.K., we expect it to roll out to Canada, China and other markets in the future.
source:
Apple
via
AppleInsider