LG may have sold 3 million G2s after all
20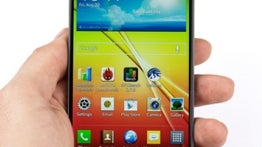 Sales of LG's G2
flagship smartphone might be higher than previously reported - although certainly not as high as LG had planned.
There were two reports this month indicating that the South Korean company sold slightly over 2 million G2 units around the world since the handset's initial announcement in August. However, according to Yonhap News, local analysts believe that LG sold more than 3 million G2s until now, with 900,000 units being shipped in South Korea only.
An LG official was quoted as saying: "Although we cannot reveal specific data, the sales of (the LG G2) are gathering ground smoothly." Even so, having spent a lot of cash to market the G2 and other smartphones, LG is expected to post an operating loss for Q4 2013.
It's not clear what the Google Nexus 5 (also manufactured by LG, and partially blamed for the weak sales of the G2) has done for the Korean company in terms of revenue. Google doesn't usually disclose sales numbers for its Nexus devices, so we may never find out how many Nexus 5 units LG had (and still has) to make.
Regardless of how well it sells, the G2 remains one of this year's best high-end smartphones. We can only hope that LG will manage to do even better with its successor, expected to be called
LG G3
.
source:
Yonhap News