LG jumps into the tablet fight with the new and colorful G Pad 7.0, 8.0, and 10.1
42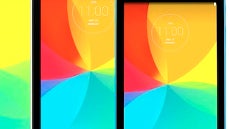 LG just sent us a press release that it will have three new G Pad tablets to show at the MedPI 2014 expo that starts in Monaco tomorrow. That's right,
LG G Pad 7.0
,
8.0
, and
10.1
are coming fast, furious, and out of the blue.
The company didn't elaborate on the particular specs for each tablet device, just threw in a couple of boilerplate descriptions, such as the fact that G Pad 7.0 is "
designed for one-handed operation
," or that the G Pad 8.0 "
offers an immersive multimedia experience and smooth multitasking
." The largest G Pad 10.1 is unsurprisingly the one with the largest battery, too, so it provides "
endless hours of entertainment and fun
." On the software side of things the slates will support the unique LG features like QPair 2.0, for getting phone notifications via Bluetooth, and responding directly from the tablets, as well as the
Knock Code
secure unlocking option.
Judging from the press shot of the G Pad 7, 8 and 10, they will also be available in a variety of colors, and will feature LG's new interface, that is likely to make a cameo in the
G3
flagship as well. That's all we know about LG's new tablet trio so far, while the company said that specs, pricing and availability will be announced "
locally in the weeks ahead
." Do you like what you are seeing and hearing about LG's new tablet trio so far?
LG EXPANDS TABLET OPTIONS WITH NEW G PAD SERIES MODELS

Three New Tablets Satisfy Consumer Demand for More Choices to Fit Their Lifestyles

SEOUL, May 12, 2014 ― LG Electronics (LG) is adding three new tablets to its G Pad series to offer more options for tablet users. The new G Pad devices ― G Pad 7.0, G Pad 8.0 and G Pad 10.1 ― will be unveiled at the MedPI 2014, one of the biggest IT/Tech trade show in Europe, taking place in Monaco from May 13-16. LG's extended tablet portfolio, which also includes the well-received G Pad 8.3, will significantly expand LG's footprint in the tablet market.

"Customers tell us that they want a wider range of devices that offer sizable screens without compromising portability," said Dr. Jong-seok Park, president and CEO of the LG Electronics Mobile Communications Company. "Unlike smartphones, tablets are not one size fits all. So we designed the G Pad Series for a diverse target audience, some who prioritize portability while others want the best multimedia experience possible. G Pad delivers on all counts."

Highlights of LG's new G Pad Series tablets are:

● G Pad 7.0: Designed to be held in one hand, LG's smallest tablet is an on-the-go entertainment hub that delivers both portability and power.
● G Pad 8.0: With its 8-inch display, LG's mid-sized tablet offers an immersive multimedia experience and smooth multitasking.
● G Pad 10.1: With the largest display and battery, LG's 10.1-inch tablet provides endless hours of entertainment and fun.

The latest G Pad tablets will also include LG's proprietary UX features such as QPair 2.0 and Knock CodeTM. With an updated version of QPair, which was first introduced on G Pad 8.3, users can effortlessly connect to their Android-powered smartphones via Bluetooth to receive notifications of calls and messages and now be able to respond directly from the G Pad. What's more, Knock Code™ enables users to power on and unlock their LG smartphones in one easy step by entering a personalized "knock" pattern on the smartphone's display. Knock Code™ offers convenience and greater security as the knock pattern can be entered anywhere on the screen in any size ― with the display on or off ― using a personalized sequence of two to eight taps for more than 80,000 possible combinations.

Additional details of LG's new G Pad tablets including specifications and availability will be announced locally in the weeks ahead.