LG Viper might fittingly arrive in time for Earth Day, April 22nd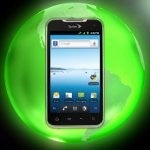 For those of you
eager to snag a pre-order
for the upcoming
LG Viper
for Sprint, the carrier's first 4G LTE smartphone, you're more than likely going to wake up super early tomorrow. However, we've been in the dark all this time regarding an actual availability date for the handset. Fear not people, well, that's because we might have one for you.
From the looks of it all, a
leaked screenshot
from Sprint's internal memo mentions the date of
April 22nd
as being its launch date for all sales channels. Although it's not exactly an official confirmation just yet, it does appear to be a likely candidate seeing that the date happens to fall on a Sunday – the day when new sales start. In addition, Sundays in general are known to be a time when new devices launch as well.
Interestingly enough, the handset's speculated release date also happens to be
Earth Day
– you know, that day when we're all supposed to be as eco-friendly as possible. Taking into account the
green friendly features of the LG Viper
, like its casing that's constructed out of 50% recycled materials, it all makes for a great argument for an April 22nd release date.
FEATURED VIDEO
source:
Engadget