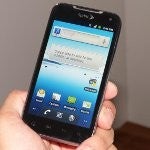 Sprint's presence at CES thus far has been relatively light and almost non-existent, but they're obviously brewing something big to catapult themselves into the limelight. Even though they're literally at the beginning of their 4G LTE journey, we're able to get a sneak peek at an upcoming device that's going to take advantage of the new network – and at the same time, it's conscious about the environment as well.
Defining itself with the perfect balance between raw power and eco-friendly initiatives, the
LG Viper
for Sprint will surely entice people with its stellar hardware and green-friendly features. Taking a quick look at a pre-production unit, we have to admit, we're blown away to remotely believe that it's an environmentally conscious device – especially when past devices didn't hide the fact that they felt and looked cheap. Thankfully, that's not the case with the LG Viper, as it's able to surprise us with its solid metallic body, lightweight feel in the hand, and its complementary chrome accents. Specifically, the handset is comprised of
35 percent recycled plastics
. This isn't some cheap plastic phone, oh no!
Blinding to say the least, the handset features a
4" WVGA NOVA display
that's piercing with its overall brightness output – it's sure to highlight just about anything that's on-screen. Additionally, it's able to produce some very
natural looking colors
. Besides the fact that this is going be the first phone from LG to feature
4G LTE connectivity
for Sprint, it's also the first time we're seeing an LG device for Sprint packing a dual-core processor, which is clocked in at 1.2GHz. With this pre-production unit, it's running a mostly stock Android 2.3 Gingerbread experience – well, with the exception that it's a Sprint ID device. Yes, it runs very quick and fluid, but as we mentioned already, this is a pre-production unit – meaning, things can change down the road.
Nevertheless, it's shaping to be a standout device that will showcase the true potential of Sprint's 4G LTE network. From what we're told, there's no timeline on when it'll be release – so just about anything can change with the device between now and release. Obviously, Sprint is eager to get its network up and running throughout the country, and even though this is a small tease of what to expect with its roll out, the LG Viper is surely looking like a top-notch device for the carrier.