LG VX-8600 Chocolate live photos
0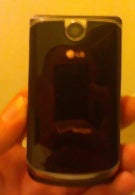 It seems that the Verizon's version of the Chocolate Clamshell will not be the same (design wise) to its GSM counterpart, KG810 / MG810, we have already showed (see the images below)… Thanks to the first real live photos of the VX8600 we can see that its keypad will not have the "chocolate-styled" keys in two shades of gray but an ordinary flat keypad; also the D-pad is not circle one, but in a rectangular form. On the outside, it seems that the VX-8600 will have a bigger external display than the one used in KG810 and we are not sure if it will feature "the Chocolate" touch keys, dedicated to the music player. The branding on the phone clearly shows the carrier – Verizon Wireless again.


| | | |
| --- | --- | --- |
| | | VX-8600 |
| | | KG810/MG810 |
The Chocolate Folder / LG VX-8600 is expected to launch with Verizon later this year.

Source: HowardForums