LG Optimus M is the first Android phone for MetroPCS
0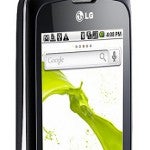 Pre-paid carrier MetroPCS has finally entered the world of...Android. The LG Optimus M is the first Android phone for MetroPCS and is available for $229 with no contract locking you in. You are required to sign up for a $50 monthly plan that gives you unlimited data, U.S. phone calls and unlimited text.
What passes for an entry level phone on the major carriers becomes a powerphone for the pre-paid carrier with no other Android choices. Running on Android 2.2 with a 600MHz processor under the hood, the phone is equipped with a
3.2
inch display with resolution of 320 x 480 pixels.
The LG Optimus M is similar to Sprint's LG Optimus S except that the Sprint branded apps are replaced by stock Android or Metro's own software. For example, instead of Sprint ID, the Optimus M has the @metro App Store along with the Android Market. For MetroPCS customers, having the ability to pick up a Froyo flavored Android phone is like waking up to a White Christmas. The LG Optimus M is expected to launch this Wednesday.
source:
electronista