LG GT540 renamed to LG Optimus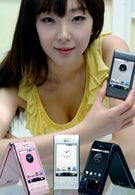 LG GT540
is going to be the manufacturer's second Android-powered handset, which we've been well aware of since January, when the phone was presented at
CES 2010
and we got the chance to share
our first impressions of it
. Now, LG has revealed that the actual name of the phone is going to be
Optimus
(without Prime – sorry, Transformers fans!), and published its detailed specifications.
According to the manufacturer, the Optimus will be extremely suitable for first-time smartphone users, and ladies are obviously referred to as well, as the phone is going to be available in pink and white to make it more appealing to them. Operating the device will be easy due to the customized UI, which resembles the one used in some LG feature phones. We have witnessed the same with
LG GW620
, although images reveal some (slight) changes. The SNS app will allow access to various social networks, and all this is running over Android 1.6. Yes, yes, we know... Let's hope an update to a more recent version will be available... some day.
The hardware characteristics are slightly disappointing. The display, for example, is a 3-inch one with HVGA resolution and implements the resistive technology. You will also get a 3MP camera with autofocus and built-in memory of 2 or 4GB. What we like about this phone is the
DivX и Xvid support
. Standard features, such as microSD HC, Bluetooth
2.1
, 3.5 mm jack, Wi-Fi and 3G are of course present.
LG Optimus GT540 is first going to launch on the European market in May, and pricing will differ in each country. We expect the price to be budget-friendly - after all, the device is aiming at users, who have no experience with smartphones.
source:
LG