Kyocera Torque hands-on
2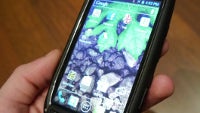 The rugged
Kyocera Torque
for Sprint was just recently confirmed to arrive on March 8th, but we get to take an early look at this Android device at MWC.
The Kyocera Torque is all about toughness and protection from the elements - it is built to survive dust, shock, humidity with MilSPec 810G, military-grade certification.
You can submerge the device in as deep as 3.3 feet (1 meter) for up to 30 minutes with no devastating consequences for the device.
In a nutshell, the Torque is a 4G/LTE device, it is definitely thick and hefty, mostly because of its rugged style. The Torque runs on Android 4.0 Ice Cream Sandwich and packs a beefy 2,500mAh battery lasting for over 18 hours of talk time.
Under the hood, there is a dual-core 1.2GHz Qualcomm Snapdragon processor and on the back is a 5-megapixel camera. In front there is a 1.3MP camera. The Kyocera Torque has 1GB of RAM and 4GB of expandable storage.
On Sprint, the device
will arrive on March 8th for $99
, but you can take a look at it right now in the gallery below.