KitKat can be pulled out of your Sprint branded HTC One using a 'customer initiated request'
7
Today is
the end of the 90 day deadline that HTC imposed on itself
back on October 31st, for updating the American carrier branded versions of the
HTC One
to Android 4.4. On Thursday, HTC Americas president Jason Mackenzie said in a tweet
that the update would be late by one or two weeks
. Yet, as we told you Friday, some
Canadian HTC One owners woke up to find Android 4.4.2 and Sense 5.5
on their phone.
Now, there is a chance that Sprint customers sporting HTC's flagship Android model can manually pull the update out of their phone. Technically, this is called a customer initiated request. You go to Settings > Software Update > Check New. If the results are negative, be a little more patient. Software update 4.06.651.4 will start its network rollout on February 14th.
Last week, we passed along a leaked HTC update roadmap and it showed that the carrier branded HTC One would receive the Android 4.4.2 + Sense 5.5 update
anytime between late January to mid February
. Looking at what is happening from that standpoint, it looks like HTC will be delivering the goods right on time.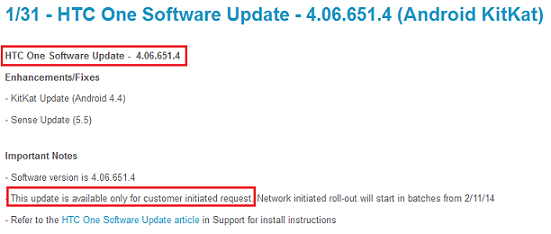 A customer initiated request could pull Android 4.4 out of your Sprint branded HTC One
source:
Sprint
via
AndroidCentral