Kindle for Android gets upgrade with new features
0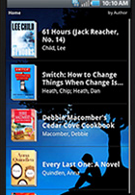 The Kindle app for Android has been upgraded with some new goodies for users. The app now features voice and text search that allows you to look for certain words or phrases from Kindle books and also search Wikipedia for more information. The book-centric social networking site Shelfari can be accessed for more details about a book, and screen orientation can now be locked into landscape or portrait. All of these features can be used without leaving the application, which is available as a free download in the Android Market. Those who already have installed Kindle will receive the upgrade automatically. The software will run on handsets running Android 1.6 or higher.
The Kindle app allows Android users to read over 700,000 books in the Kindle Store. New York Times best sellers and newly launched titles can be purchased for as low as $9.99. And the service lets you purchase a book once and read it on many different platforms supported by Kindle, including BlackBerry devices and products that run Apple's iOS. When you switch from one platform to another, Kindle will remember exactly where you stopped reading and let you start up from that spot.
For more information, and instructions on how to download the app, visit the sourcelink.
source:
KindleforAndroid