Job posting hints that RIM is on the move to develop a WebKit browser
This article contains unofficial information.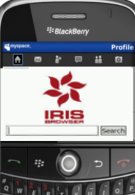 RIM's devices are known to be a great tool for business users on the go – its email application is one of its strong points. We know that the BlackBerry Storm2 is well on its way to becoming a reality for the everyday consumer – and its clear that touch screen enabled phones have some advantages. One area where RIM falls flat on its back and left in the dust is its web browsing experience. Through the many devices that RIM has pushed out of its factories the last few year, they're still trying to figure out how to overcome that hurdle. Fortunately it looks like RIM is heading in the right direction with rumors about a WebKit based browser that's being developed. Windows Mobile users got to play around with the Iris browser that was developed by Torch Mobile – which was grabbed by RIM most recently. You don't have to look too far to find clues pointing that a Webkit browser is in development for RIM – one posting on LinkedIn is clearly looking for a candidate that has expert knowledge in C++ to develop a WebKit-based browser for the BlackBerry Platform. So maybe BlackBerry users won't have to suffer much longer with their browsing experience? Let's just hope that they expedite this quickly and start rolling because other platforms are aggressively fine tuning their browsers – RIM doesn't want to be left behind again.
source:
LinkedIn
via
MobileCrunch