It's the 9530's turn as leaked OS 4.7.0.132 for Verizon's BlackBerry Storm appears
This article contains unofficial information.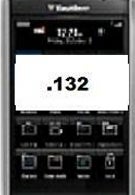 reported
last week, it was the BlackBerry Storm 9500 ending up with a leaked OS, 4.7.0.131 update. But now U.S. Storm owners can rejoice - OS build 4.7.0.132 for the Verizon version of BlackBerry's first touchscreen device has just leaked as well. Since the update is not coming from Verizon, if you download the upgrade onto your phone you run the risk of watching your phone turn into an expensive, but otherwise nicely looking doorstop or find out you have voided your guarantee after patiently waiting in line at a Verizon store in the hope of getting a replacement model. Will Verizon ever release an official upgrade? The rumor had it, not that long ago, that an OTA release of version .113 from Big Red was less than two weeks away. The leaked .132 build may as well be a sign that an official release is being prepared.
BlackBerry Storm 9530 Specifications
|
Review
source:
CrackBerry