It was a pleasant summer for iOS with market share gains in 7 out of 9 countries
25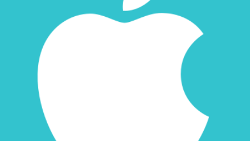 Just released data has revealed that Apple had a pleasant summer around the world. According to Kantar, seven of the nine markets monitored by the analytical firm saw iOS market share rise on a year-over-year basis during the three months ended in August. In the U.S., Apple's mobile operating system had a 35% market share during the three months, up 3.7 percentage points from the same time period in 2016. Android's share during the same months showed a decline of 2.9 percentage points in the states.
Kantar also discovered that during the three month period, the iPhone kept its number one spot at AT&T as usual. Surprisingly though, the device accounted for nearly 50% of the sales at Verizon. Samsung had a rough summer at the nation's largest carrier, posting weaker sales. For the three months ending in August, Samsung narrowly beat out Apple in the U.S. with 35% of the stateside market. Apple had 35% of smartphone sales in the country. Overall, Android owned 63.2% of the U.S. smartphone market from June though August.
In China, where Apple has been facing tough competition from local firms like Huawei and Oppo, iOS market share increase by a healthy 4.3 percentage points to hit 17.7%. In Urban China, the
Apple iPhone 7
and
Apple iPhone 7 Plus
were still on top of the sales charts despite the approaching launch of the
Apple iPhone 8
and
Apple iPhone 8 Plus
. Huawei has a commanding 31% share despite a sluggish 1.5 percentage point year-over-year increase during the three months.
"Samsung took full advantage of the weeks just before the iPhone 8 and iPhone X were released in Great Britain, with significant promotional activity that helped drive its overall share to a three-year high of 38.4% for the three months ending August 2017. More than one in four Galaxy S8 buyers cited a specific promotion as a key purchase influencer, and almost half said that a good deal on the price of the phone was key to their purchase. Both of these metrics experienced a large increase over the last two months of the period."- Dominic Sunnebo, Global Business Unit Director, Kantar Worldpanel ComTech
In Great Britain, Samsung used a steady stream of promotions to score a three-year high of 38.4% for the three months ended in August. With a gain of 6.4 percentage points during that period, Android now has a 65.3% share in Great Britain. Apple lost 2 percentage points and owns 33.9% of the market.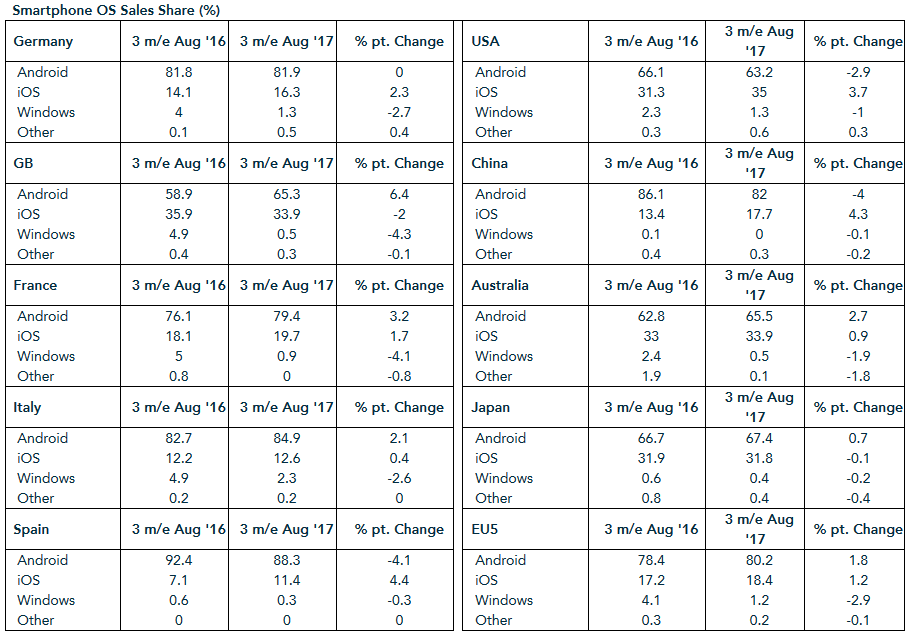 It was a good summer for iOS
source:
Kantar