Isis bringing NFC payments to (some) vending machines
5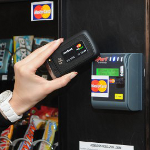 Word has it that NFC is the wave of the future, but it is definitely taking quite a long time to roll out in the USA. If you've been to Japan, you know that mobile phones have been able to use NFC for payments on vending machines or pass access at train stations, but things are moving much slower in the US. But, Isis is looking to help move things along by adding NFC to (some) vending machines.
Isis is the joint venture between Verizon, AT&T, and T-Mobile, and word has it that Isis has joined with USA Technologies (USAT) to add NFC mobile payment options for 7,500 vending machines in the
Isis limited release
regions of Austin and Salt Lake City. As of right now, Isis is limited to beta users in those cities, but luckily the updated vending machines will be using USAT's ePort Connect, which can also accept NFC payments through Google Wallet or PayPal.
Right now, Isis isn't nearly as robust or widespread as Google Wallet, but with 3 of the 4 major carriers behind it, we expect it'll find its footing. In the meantime, if any of our readers are in the small group testing the app, let us know how it is.