Instapaper goes free and launches premium subscription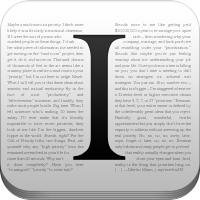 These days it seems that if you are a productivity app with either only a paid option or only a free option of an app, you're in a weird no-man's land. So, the trend has become to offer a free option, and supplement that with a paid subscription service, like Evernote, Feedly, and Pocket. Now, Instapaper has joined that list by making the base app free, and adding a subscription option.
On the free option, Instapaper users will get standard options like saving unlimited amounts of content, syncing articles across platforms, create folders for organization, 5 highlights per month, sharing from many apps, and "world-class support". The paid option is obviously targeted at more power users, and it gets you more advanced features like text search, unlimited highlighting, text-to-speech playlists on mobile, API integration, the "send to Kindle" option, an ad-free experience.
That's a pretty solid selection of features on the premium side, and the price is fairly aggressive compared to the competition. The most direct comparison is Pocket, which would cost you $4.99 per month or $44.99 per year, but Instapaper premium will cost you $2.99 per month or $29.99 per year.