Instagram's Layout photo collage app lands on Android
4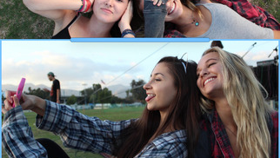 Instagram launched Layout, a minimalistic and straightforward photo collage app, as a
temporary iOS exclusive back in late March
. However, as previously announced, the Facebook-owned company has now released an Android version of the app as well.
At a first glance, Instagram's Layout is basically the same on Android as it is on iOS, with the same basic features being replicated on Google's mobile operating system. Layout is available for all Android smartphones running at least version 4.1 of the OS.
Layout allows users to quickly create Instagram-ready photo collages right from their Android smartphones. Select up to 9 photos from your photo gallery, and the app will suggest a layout based on the number of photos you've selected. Once you select the layout, you can tweak the size of each photo, and you'll also be able to rotate or flip individual photos. The app can also emulate the photo booth experience by creating photo collages with the camera of your Android device serving as the source.
Layout's photo collages come in a square form factor, which is the perfect aspect ratio for Instagram users. Obviously, uploading a photo collage to Instagram can be done without leaving Layout.