Infographic: Samsung presents the evolution of communication technology on its phones and smartphones, from 1G to 4G
14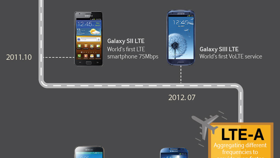 Not long after presenting
the evolution of cameras on its phones
, Samsung today released an infographic that showcases the evolution of communication technology on its phones and smartphones.
The infographic first presents the Samsung SH-100, a bulky device that was launched way back in 1988 as Samsung's very first mobile phone. It then takes us through the mid 1990s (with the Samsung SCH-100, "the world's first commercialized CDMA and CDMA200 phone"), and through the early 2000s (when the SCH-E100 was released as the world's first 3G, 1X EV-DO handset).
Not long after that, HSDPA became available - at about the same time with the rise of smartphones. Next was LTE - however, the world's first LTE-capable handset wasn't a smartphone: it was the Samsung SCH-R900, a featurephone with a WVGA touchscreen display and a sliding QWERTY keyboard. The Galaxy S II, Galaxy S III, Galaxy S4 LTE-A, and the Galaxy S5 Broadband LTE are also mentioned.
The infographic ends with the Galaxy Note 4 S-LTE, the world's first tri-band carrier aggregation-enabled handset, which paves the way towards 5G technology.
source:
Samsung Tomorrow