Images of the Samsung Convoy 3 coming to Verizon later this month?
17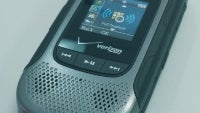 Most people are aware of the Casio G'zOne rugged series of Verizon phones, but Samsung has their own rugged Convoy and Convoy 2, which has been out over the past couple of years as well.
Today we received some pictures from one of our tipsters, saying that that
Verizon is in the process of testing
the new
Samsung Convoy 3
(SCH-U680) and hopes to have it out within the next few weeks.
As you can see from the images, the Convoy 3 is a modest upgrade from the Convoy 2, as the style and color has changed some, though it does appear that the internal display is about the same size (2.2") and it retains a color external display and music control buttons. Stereo speakers are also noticeable on front, as well as the microSD memory card slot, orange push-to-talk button, and locking battery cover on the rear.
We'll let you know when we learn more about the Samsung Convoy 3.
Thanks, Tip4Tat!