HzO nanocoating technology from ZAGG to waterproof next season's phones, shopped to Samsung and Apple
5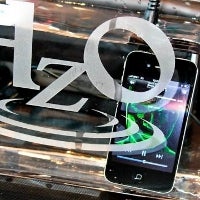 ZAGG, the accessory maker behind
the Invisible Shield gadget protectors
, is at it again. At CES 2012 last week, the company demonstrated a way to waterproof gadgets by simply applying nanocoating over their internals, with the commercial name HzO.
Of course, the nanocoating itself is not a simple concoction, as it has strong water-repelling capabilities, and has to be applied to parts
during manufacturing
, but never damaging your phone while you use it in the rain or just washing the dishes, is worth any changes in the conveyor belts, in our humble opinion.
ZAGG says that when they demonstrated the patented WaterBlocking technology before Samsung;s CEO, he was pretty impressed: "
We showed the Samsung Chairman the technology with a Samsung Galaxy S that we had coated with HZO and he couldn't believe his eyes. Samsung is really excited by the tech.
"
The accessory maker has already applied the nanocoating to a few Samsung, Motorola and Apple handsets, and was demonstrating HzO by dunking repeatedly an iPhone connected to a speaker in an aquarium at CES. A speaker was also present, since ZAGG plans to also
waterproof headsets
too, so as they don't get damaged while you sweat or swim with them on.
The WaterBlocking tech will be going into "
next season's phones
", the company said, as it is already getting a big smartphone manufacturer sign up for it, and also
talking to Apple about waterproofing the next iPhone
. Watch the video below, explaining how HzO does its magic and start rooting for them nanoparticles.
via
Pocket-lint