Huawei teases upcoming P8, flagship to come with a large battery or special power-saving feature?
9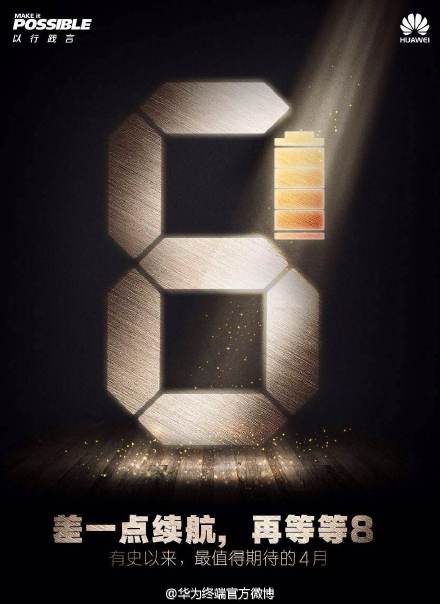 Official Huawei P8 teaser suggests a focus on battery life
As we get closer to April, when Huawei is rumored to announce its flagship P8, you can expect more and more related intel to leak through the cracks and give us a better idea of what's coming. This time around, however, we're looking at a completely official teaser from Huawei itself, and it's suggesting outright that we should expect something big in terms of either battery life or power-saving features.
The image, posted on Huwei's official Weibo account (China's Twitter equivalent), is a clear reference to the P8, but the interesting part is the battery that the company has stylized within the '8' itself. Usually, we'd assume that Huawei is simply letting it be known that the P8 will come with a monstrous battery, but considering the P8's lineage of super-thin devices, we're mostly leaning towards some special new feature that will help with its efficiency. Alternatively, Huawei could be trying to show off an engineering achievement – it could have fitted a relatively large cell in what will probably be quite the anorexic body.
The Huawei P8 is due to be unveiled in London on April 15th, and the word on the street is that it'll carry a 5.2-inch display with a 1080 x 1920 resolution, an octa-core Kirin 930 processor and 3GB of RAM, a 13-megapixel camera with a dual LED flash and optical stabilization, and 32 gigs of internal storage.