Huawei officially brings its MediaPad tablets in the US through Amazon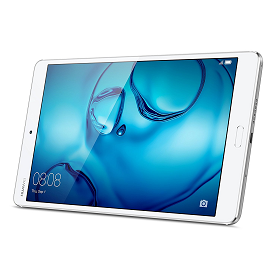 Huawei's MediaPad tablets are now available in the US through Amazon. Three Huawei MediaPad models - the
MediaPad M3
, T1 7.0, and T1 10.0 - are now available for purchase while another is scheduled to land by the end of the year.
The MediaPad M3 is probably the tablet in Huawei's current lineup that stands out the most. The device comes with a metal body, an 8.4-inch display running at 2560 by 1600, a Huawei-made chipset with an octa-core processor, and 4GB of RAM, an above-decent configuration given its affordable price of $299.
The MediaPad M3 also comes with 32GB of expandable internal storage, 8MP cameras on both the front and the back, a 5100mAh battery, as well as interesting extras such as a fingerprint scanner and four speakers. On the software side, the Huawei M3 runs Android 6.0 Marshmallow with the manufacturer's own Emotion UI 4.1 overlaid on top.
The Huawei M2, which is scheduled to launch on Amazon by the end of the year, is a tougher pill to swallow. Priced at $349, the M2 comes with lesser hardware compared to the M3. Customers get a 10.1-inch display running at 1920 by 1200 pixels, a HiSilicon Kirin 930 chip paired with just 2GB of RAM, and just 16GB of integrated storage. Other specs include a 13MP primary camera, a 5MP selfie/videoconference sensor on the front, and a 6600mAh battery. The Huawei MediaPad M2 also loses some points in the software department as the tablet runs Android
5.1
Lollipop overlaid with Emotion UI
3.1
.
At the bottom of the price range, both of Huawei's MediaPad T1 models are entry-level efforts. The 7-inch version is priced at $99 while the larger 9.6-inch version costs $159. As you'd expect, the raw hardware specs are nothing to write home about. In fact, with low-power chipsets, low amounts of RAM, low-resolution displays, and an outdated operating system (Android 4.4 KitKat), you're probably better of avoiding the MediaPad T1 models.
Huawei's MediaPad tablets have been around for a while and the company has been selling them in multiple markets around Europe for a few years now. With Huawei having made significant progress in terms of US customer perception due to efforts such as the Google Nexus 6P or the solid P9, the company is now ready to sell tablets in the US as well. However, only time will tell how successful (if at all) the company will be in the US tablet market.