Cheapest Huawei Mate 20 flagship will cost $800 in Europe
8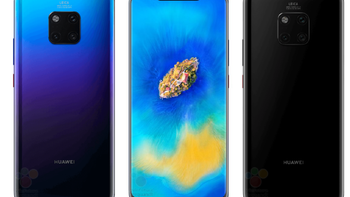 While Huawei is gearing up for its big
Mate 20
reveal, we continue to receive "confidential" information about the upcoming flagship. Although we already know about what the Mate 20 and
Mate 20 Pro
have to offer in terms of specs, details about pricing options were a bit scarce until recently.
The first information about the Mate 20's prices
popped up about a week ago
when a list of prices from Swiss distributors and retailers leaked online. Today, we have new details about Huawei's flagships coming from Poland carriers, so we believe they are more accurate than the previous list.
The Polish media reports at least one local carrier – Plus will offer the
Huawei Mate 20
for $800, while the
Mate 20 Pro
will be available for purchase for $1,150. Obviously, European prices are always higher than the ones in the United States due to the various taxes, so we expect both phones to cost less there.
Huawei Mate 20 and Mate 20 Pro
will be announced on October 16
and will probably be available for pre-order right away. However, they will not be carried by any US network operator, so you'll probably only see them on eBay and/or Amazon.