Huawei IDEOS X5 Hands-on
6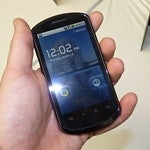 You might have gotten dizzy with all the announced heavyweights at CES, but it's not all about the high-end devices, you know. The
Huawei IDEOS X5
is a 3.8-inch mid-end device coming on AT&T with Froyo, running on a 800MHz Qualcomm MSM7230 CPU. Nothing new and grounbreaking, you might say, but someone has to take care of the mid-range segment, right? Boy, just when did we start considering phones with 3.8" screens mid-end...
In any case, the IDEOS X5 does not feel like anything more than a typical mainstream device, but still it looks like a fairly balanced performer.
The handset will be one of a couple upcoming smartphones by Huawei to launch in the States with major US carriers.