Huawei Glory 6 Plus to be announced on December 16, packing a Kirin 925 CPU and a duo of 8MP cameras on its back
10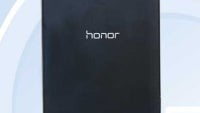 Chinese handset makers are on a roll today, with Huawei being the third to emerge in our news feed. Freshly baked from the rumor mill comes a certain Huawei Glory 6 Plus, a new high-end smartphone that is about to launch really soon, on December 16th. The handset is rumored to cost about $537, which is a lot to ask for in Xiaomi-dominated China. In that case, Huawei better have the goods to deliver, right?
According to data from the benchmark app Ludashi, the Glory 6 Plus comes with a 5.5-inch 1080p display, a 1.8GHz octa-core Kirin 925 processor, 3GB of RAM, and a pair of 8-megapixel cameras on the back of the device that might sport some sort of 3D capture technology or re-focus functionality. The phone's dimensions have been revealed, too. This is a 5.9 x 2.99 x 0.29in (150.46 × 75.68 × 7.5mm) phone that weights 5.82 oz (165 grams). Unconventional phones are usually bulky like that.
In the image below, you can see Huawei is bragging about its octa-core processor being the first in world to support LTE Cat 6 data networks. The chip is made on a 28nm process and packs a Mali-T628 GPU and an i3 co-processor that handles sensor data. You can also see photos of the phone from TENAA, where the pair of cameras on the back is clearly visible.