Huawei Ascend W1 hands-on
5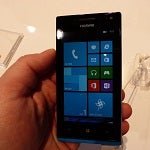 Huawei made a splash at CES 2013 with the announcement of its new flagship Ascend D2 and super-sized Ascend Mate Android handsets. We have known for a while about Huawei's effort to offer a Windows Phone device. News of the Ascend W1 came out last year, but we never received any word as to when or where it would be available.
For the near-term, the Ascend W1 will be available first in China in the near future. No carrier announcements have been made for any US offering. The W1 supports the common GSM/UMTS frequencies and there is no LTE or front facing camera on board, so a US appearance is not likely. Were it to make an appearance on AT&T or T-Mobile, this entry level Windows Phone would compete directly with the Samsung ATIV Odyssey, as many of the specifications are similar.
On board, is a 1.2GHz dual-core processor, fed by a 1950mAh battery. The screen measures 4-inches with 480x800 resolution. The sole camera is a 5MP shooter. There is 512MB RAM, 4GB ROM and the W1 supports microSD expansion. The rest of the package is familiar, as the Windows Phone 8 experience is intact. There are not any "Huawei-only" applications present which makes this a no nonsense entry-level Windows Phone device. The Ascend W1 will be available in China first. Pricing and carrier announcements for other markets have not been made. We have some pictures for you below to check out, and re-visit this page again as we will have a hands-on video uploaded shortly.