How to fix the Blue LED error on some BlackBerry 10 devices running BlackBerry 10.3.1
20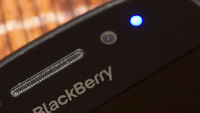 Some
BlackBerry Z10
and
BlackBerry Q10
users have been running into a problem since back in November when leaked or developer versions of BlackBerry 10.3.1 were available. Some owners of both models who loaded the non-final versions of the new OS build on their phone, found that all of their data was gone and a blue LED light was blinking after manually restarting their handset.
Now that the
BlackBerry 10.3.1 OS build is official
, BlackBerry has acknowledged the "Blue LED" issue by including it on its
Knowledge Base
. According to BlackBerry, the issue could occur when the user chooses the
Restart
option after pressing the power button. It could also be caused by a long press of the power button, or when taking out and reinserting the battery.
The resolution starts by making sure that the latest version of BlackBerry desktop software is installed on your computer. You can make sure you have the latest build by going to www.BlackBerry.com/Blend. You then connect your BlackBerry 10 device to your computer using a micro USB cable. Once the phone is recognized by the computer, download BlackBerryFix.zip to the Desktop on the computer. Once it is downloaded, double-click on BlackBerryFix.zip to open the file. Then, double-click on BlackBerryFix.exe. When the BlackBerry Fix window appears, check to make sure that the PIN number for your phone is displayed. Click on
Fix This Phone
.
This should get rid of the Blue LED issue that has been wiping the data from unfortunate Q10 and Z10 owners for over three months now.
source:
BlackBerry
via
Crackberry