How to connect a USB accessory to an Android smartphone or tablet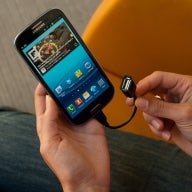 With Android
3.1
, Google's mobile platform added a new trick to its repertoire
–
USB host functionality. In plain words, that allows for Android devices to work with a broad range of USB peripherals, such as keyboards, mice, USB flash memory sticks, and even gamepads. But what about smartphones and tablets that don't have a full size USB port? Well, they still can get along well with such accessories too, with the help of an inexpensive gizmo.
The
USB On-The-Go cable adapter
plugs into the microUSB port of an Android device and provides a standard size USB port on its other end. All you have to do is to plug in the desired USB accessory in there and you should be good to go.