Honor 9X and 9X Pro go official with pop-up cameras, huge displays
9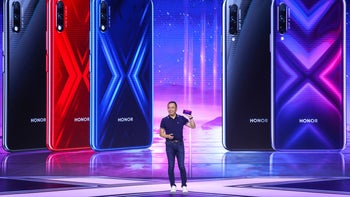 We're not sure how soon the new Honor smartphones will be released in the U.S. or whether or not they'll make a comeback in the States, but in case they do, it's better to know what to expect. The new Honor 9X and 9X Pro have just been revealed in China and from what we understand, they'll be launched in other countries as well.
For the time being, customers in China will be able to purchase the Honor 9X and 9X Pro for $200 and $320, respectively. Keep in mind though that prices in China are much lower than the rest of the world, so expect these upper mid-range phones to be more expensive in other countries.
The main selling points of the Honor 9X and 9X Pro, besides the low prices, are the pop-up selfie cameras, huge displays, and bezel-less design. According to Honor, both phones feature All-View displays with 92% body-to-screen ratio thanks to the 16-megapixel pop-up selfie camera.
Both smartphones are equipped with Huawei's Kirin 810 chipset, and 4GB, 6GB, or 8GB RAM. Also, the amount of storage is varied – 64GB, 128GB, and 256GB, so depending on which version you choose, the price might be lower or higher.
Unlike the basic Honor 9X model that packs a dual-camera (48MP+2MP), the 9X Pro comes with a triple-camera configuration (48MP+8MP+2MP). Furthermore, both phones boast massive 6.60-inch displays with full HD (1080p) resolution, as well as rear-mounted fingerprint sensors and 4,000 mAh batteries.
The reason the Honor 9X Pro is more expensive is that it's the only one that comes with 8GB RAM inside. The standard Honor 9X comes in three variations: 4/64GB, 6/64GB, and 6/128GB.
One other thing worth mentioning is that both phones feature X-shaped 3D gradient glass back finish. Also, the Honor 9X comes in black, blue, and red, while the Honor 9X Pro is available only in black and purple.