Here are the latest iPad mini renderings, including one in blue
12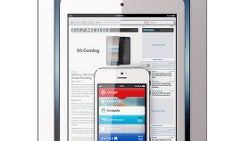 The
Apple iPad mini
has hit the rumor mill way too often to be ignored. As a matter of fact, expectations are that Apple will officially announce it on October 17th, with a launch on November 2nd.
And so far, there are plenty of mockups, leaks and basically all the information you need to create the perfect-looking iPad mini renderings. This is exactly what designer Martin Hajek set out to do, and quite successfully. Hajek has paints the iPad mini in white and black, but he also takes the liberty of making a blue render, and it looks gorgeous. We don't expect Apple to release a blue tablet any time soon, but some time in the future, we definitely wouldn't rule it out.
So far, we suspect the
iPad mini to have a 7.85-inch display
with a resolution matching the one on the second-gen iPad (1024 x 768 pixels). It's expected to feature a narrower bezel and the new lightning connector as well. Check out these pretty renderings below, and let us know - would you be buying it if it looked like that?
source:
Martin Hajek
via
Apple Insider