Here are 10 paid iOS apps that are currently free
2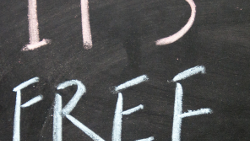 Who (besides Android users) wouldn't want the opportunity to download paid iOS apps for free? Today, we have 10 paid apps that are priced as high as $7.99 normally, but are being made available right now for the low, low price of zero. Go through the list and see if there are any apps that you could use. The apps available for free include a few games, a Wikipedia reader, and an app that will allow you to sketch ideas on your iPhone or iPad screen.
One interesting app is
Where to Go?
You'll be saving a lot of money by installing the app for free. With this on your phone, you can find out points of interest nearby using the GPS on your handset. You even get turn-by-turn directions to where you want to go.
As usual, we need to remind you that these apps are free right now. We have no idea when the free label will be removed and the app returned to its regular price. With that in mind, do not procrastinate. If you see an app you want, install it now. You can always delete it later.
source:
BGR