Harry Potter eBooks finally official for your mobile device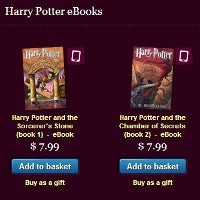 Harry Potter eBooks have been on the wishlist of every mobile device owner for a while now, but the author J.K. Rowling was taking her sweet time to authorize their digital edition, until the whole world plus dog got the paper version.
Thankfully, the wait is over, and you can grab any of those epics for reading on your Android, iOS, Windows Phone, BlackBerry, bada, Kindle and so on devices. They cost $8 to $10 a pop, as most self-respecting eBooks, and there are audio versions as well, which will run you $30 or $40 for each book, or $256 for all of them. The whole box set of seven can also be purchased for e-reading for the low price of $58.